Last Updated on September 29, 2023
Becoming a good Salesforce Marketing Cloud consultant requires a combination of education, hands-on experience, and a deep understanding of marketing automation and customer relationship management (CRM).

We are all starting out somewhere, and I still remember my early days of working with Salesforce Marketing Cloud. It wasn't easy, as all the features might seem quite overwhelming to begin with. Remember, that SFMC is not a tool but rather a platform. You get a blank sheet of paper, but also a lot of colours and paintbrushes to create whatever your imagination (or CRM manager) comes up with.
When beginning working with Salesforce Marketing Cloud, it is essential to know where to reach out for help. Hopefully you are as luck as I was, and you have found yourself working with some clever brains with many years of Salesforce experience. I am specifically not writing SFMC experience, as most of the projects you will find yourself working on are most probably cross cloud, with at least Marketing Cloud and Sales/Service Cloud involved.
Having the right balance of trying out for yourself, and asking for help is essential. I have seen too many implementations, which worked OK, but were far from what I would call "best practice". People who built them where probably relying solely on documentation, which does tell you HOW to do things, but not WHICH things are recommended to do in a specific context.
This is why I, and many others, are providing free Salesforce Marketing Cloud consultancy. How does that work, you ask… Well, we will not necessarily be sitting next to you and your colleagues, spending thousands of hours on a green field implementation. The goal is to provide you with a slice of the experience we have collectively acquired throughout the years. So you don't do the same mistakes as we have done.
Get in touch
There are multiple ways how you can ask for my help.
Marketing Cloud Group on Trailblazer Communities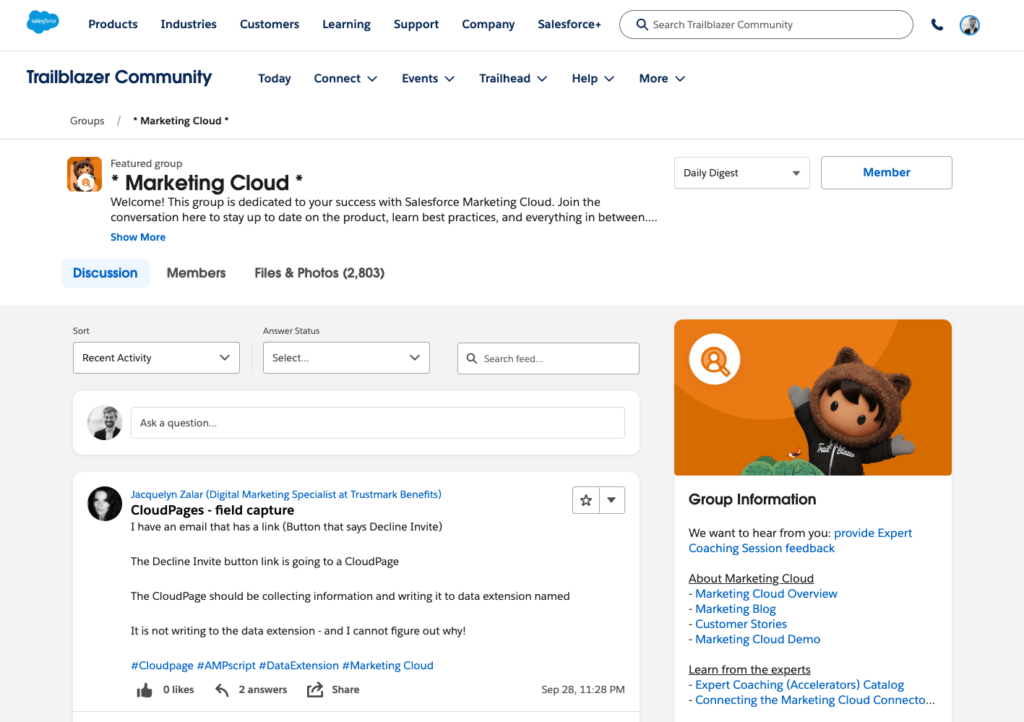 This is the official community hosted by Salesforce. You will find a lot of community groups, a.o. the above one which is focused on Marketing Cloud. An active community with many experienced engineers, consultants, architects and marketeers is ready to help you out.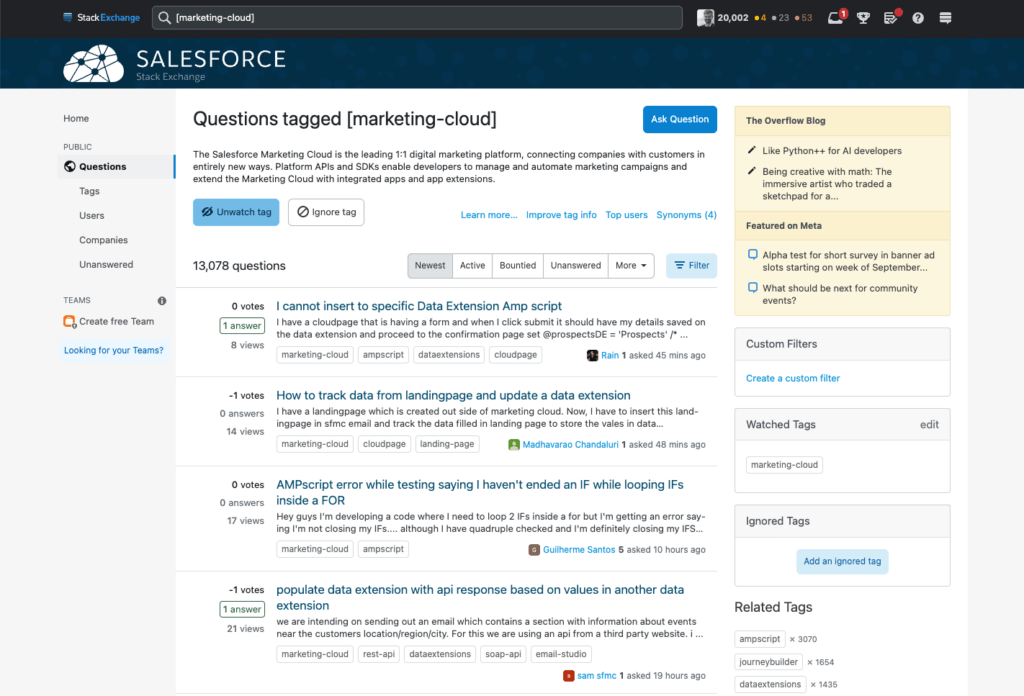 This one is a gold mine, and you have probably already seen some of the posts on this page when googling for solutions. Personally, I have posted more than 700 answers here, in my more than 7 years as a member. Together with Zuzanna Jarczynska, Gregory Gifford, Adam Spriggs and many others, I keep helping community members to become experts in Salesforce Marketing Cloud.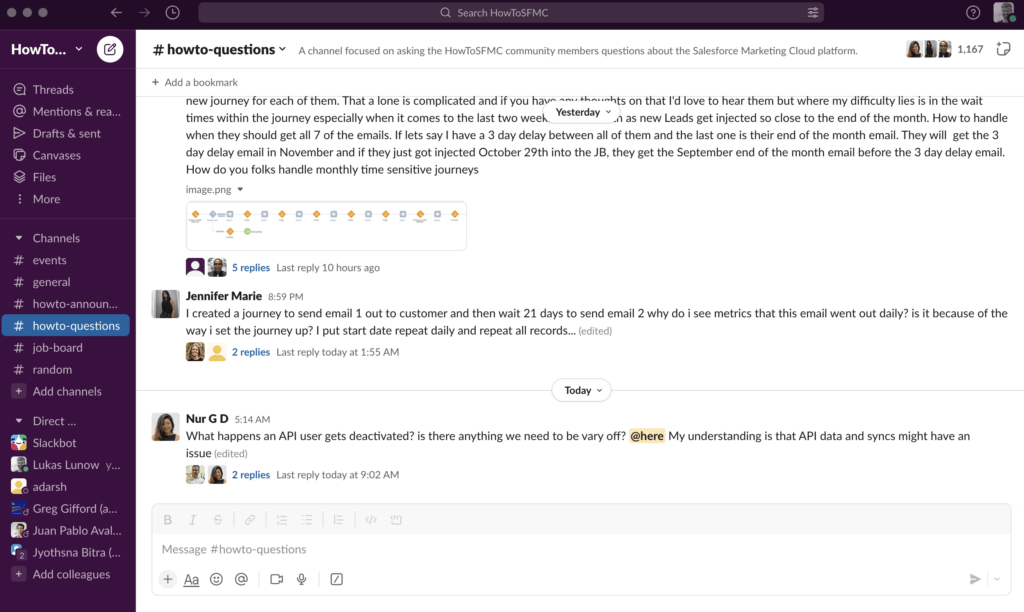 This one is unique, as it has a real time time aspect to it. There are a lot of good discussions going on, often with a joyful tone, and everyone is happy to contribute with their advice.
You will find that many of the thought leaders are active in multiple of the communities listed above, so I can't say one place is better than other when you have questions to ask.
Before you ask…
I have one request to you:
Please ensure to do some research yourself, before asking. Posting a question which basically is "I have this requirement… …please provide me the code." is not something which will be received positively. It will most probably be closed on Salesforce Stack Exchange, and you will find it difficult to receive any answers.
Instead, what I recommend is more along these lines:
"I am trying to do X… …so far I have come up with this solution outline… …here is my code, which fails under these conditions…"
And remember, we all do this in our spare time. Nobody in the community gets paid for keeping an eye on new questions. Neither they are compensated in any other ways. Please be patient, and rephrase your question if it does not receive any answers.

Also, don't forget to provide your feedback by either accepting an answer to your question on SFSE, or upvoting a different answer already provided. On Trailblazer communities, you should instead mark an answer as being best. Looking forward to seeing you contribute to the community by asking some good questions, and getting free consultancy in return.
Go on your own learning path
Are you seriously interested in becoming a trusted expert in Salesforce Marketing Cloud, but don't know where to start (except by asking the right questions in the right communities)?

Here are the steps you can take to pursue a career in this field:
Learn the Basics of Salesforce Marketing Cloud:
Obtain Salesforce Marketing Cloud Certifications:
Understand Marketing Principles:

To excel as a Marketing Cloud consultant, you need a strong foundation in marketing principles. Study marketing concepts, customer segmentation, and campaign management.

Master Data Management:

Data is the backbone of effective marketing campaigns. Learn how to manage and integrate data in Salesforce Marketing Cloud. Understand how to create and use Data Extensions and Contact Builder.

Email Marketing Expertise:

Email marketing is a significant part of Marketing Cloud. Gain expertise in creating and managing email campaigns, A/B testing, personalization, and email analytics.

Journey Builder Skills:

Journey Builder is a powerful tool for creating customer journeys. Learn how to design, implement, and analyze customer journeys to nurture leads and engage customers effectively.

Automation and Workflow:

Marketing automation is a core feature. Understand how to automate marketing tasks, set up triggers, and create complex workflows to streamline marketing processes.

Coding and Scripting:

Familiarize yourself with AMPscript and SQL. These scripting languages are used for customizing and enhancing Marketing Cloud capabilities.

Stay Updated:

The Salesforce ecosystem is continually evolving. Stay updated on the latest features, updates, and best practices by attending webinars, conferences, and reading industry blogs.

Gain Practical Experience:

Practical experience is invaluable. Work on real projects or internships to apply what you've learned and build a portfolio.

Communication Skills:

As a consultant, you'll need excellent communication skills to understand client requirements, explain technical concepts, and provide solutions effectively.

Soft Skills:

Develop soft skills such as problem-solving, critical thinking, and project management. These skills are crucial for success in consulting.

Build a Professional Network:

Connect with professionals in the Salesforce and marketing automation community. Join online forums, attend user groups, and network at events to gain insights and potential job opportunities.

Seek Employment or Freelance Opportunities:

Look for job openings or freelance opportunities related to Salesforce Marketing Cloud consulting. Start as an associate or junior consultant to gain more experience.

Continual Learning:

Salesforce Marketing Cloud is a dynamic field. Continuously improve your skills, stay updated with industry trends, and consider advanced certifications as you progress in your career.
Becoming a successful Salesforce Marketing Cloud consultant takes time and dedication. By following these steps and consistently improving your knowledge and skills, you can build a rewarding career in this field.
Good luck!